Naomi Sherman
Food photographer | Food stylist | Recipe Developer | Landscape photographer
Australian photographer, Naomi Sherman, relishes the opportunity her work provides to indulge in her two passions- photography and food. Based in the stunning Huon Valley, in Tasmania, Naomi spends her days developing delicious, nutritious recipes and creating beautifully styled images for her clients, using wherever possible a smorgasbord of the 'Apple Isle's' famed fresh produce. On her Instagram page, @naomisherman_foodcreative, you'll find richly textured and evocative images of dishes she's created with regional gems including Huon Salmon, coveted Perigord Truffles, local black garlic, saffron, apples, Angus beef and a feast of other farm fresh, locally sourced ingredients. Surrounded by a picture postcard landscape of rustic farmhouses, lush paddocks, apple orchards and dirt roads that lead to everywhere and nowhere at the same time, it's no wonder Naomi is often inspired to take her camera outdoors and capture some of Tassie's spectacular scenery. In August last year, Tasmania's Channel Heritage Centre hosted a month long exhibition of Naomi's fine art landscape photography that's also showcased on the @bluerustimages Instagram page. This super-talented creative has recently launched a signature range of Lightroom presets (available on her website, www.naomishermanfoodcreative.com), is working on her own cookbook and is also currently prepping for her workshop appearance at October's Bright Festival Of Photography, in Victoria. She took time out from her busy schedule to have a chat about photography, life, work and her serious addiction to vintage props and linen napkins!
Hi Naomi! For those people who are meeting you for the first time, we'd better start with a general introduction! "Hi! I'm a photographer and I work professionally in the food photography field, but also have a strong passion for landscape photography. I live in the beautiful Huon Valley, in Tasmania, with my husband and son. We purchased our small acreage about twenty years ago and moved into the home that we built on New Year's Eve 1999/2000. We have two dogs and a cat (who thinks he's a dog!). We also have a small flock of hand-reared sheep and some chickens. "
What do you love about where you live? "The Huon Valley is one of the most beautiful parts of our country. It's filled with artists, growers, producers and craftsmen. My home is a quick 10-minute run to the nearest shop, and only half an hour from Hobart, but is still completely rural and quiet."
Photo caption: Naomi is pictured here organising her props ready for a shoot at The Farmers Cottage in Lucaston, Huon Valley, Tasmania. Photo Credit: Dearna Bond from @tohercore (Instagram). Published here with permission and thanks.
When and why did you choose photography as a career? "When our children were still in school, we would pack up our camper and travel around Australia by 4wd. I used to take my little point and shoot camera and took some lovely photos. Even after I upgraded to a fancy DSLR, I still didn't know how to use it. After our children grew up, I was left with a chronic case of empty nest syndrome and while browsing on Facebook one day, I saw an ad for an online beginners photography course called Click Love Grow. This was the beginning of the end for me! I discovered a passion for photography and I have not looked back!"
What projects are you currently working on at the moment? "I have my regular recipe development work and I've just finished a campaign for a major yoghurt company. I also do work for Tasmanian Gourmet Online on a regular basis. I'm also right in the middle of developing a series of recipes for Perigord Truffles. And in my spare time, I'm working on my own cookbook."
What is the professional achievement you're most proud of so far? "Landing a solid, on-going freelance contract, based off nothing more than my Instagram feed photos. It showed me that the product speaks for itself, not degrees or massive followings."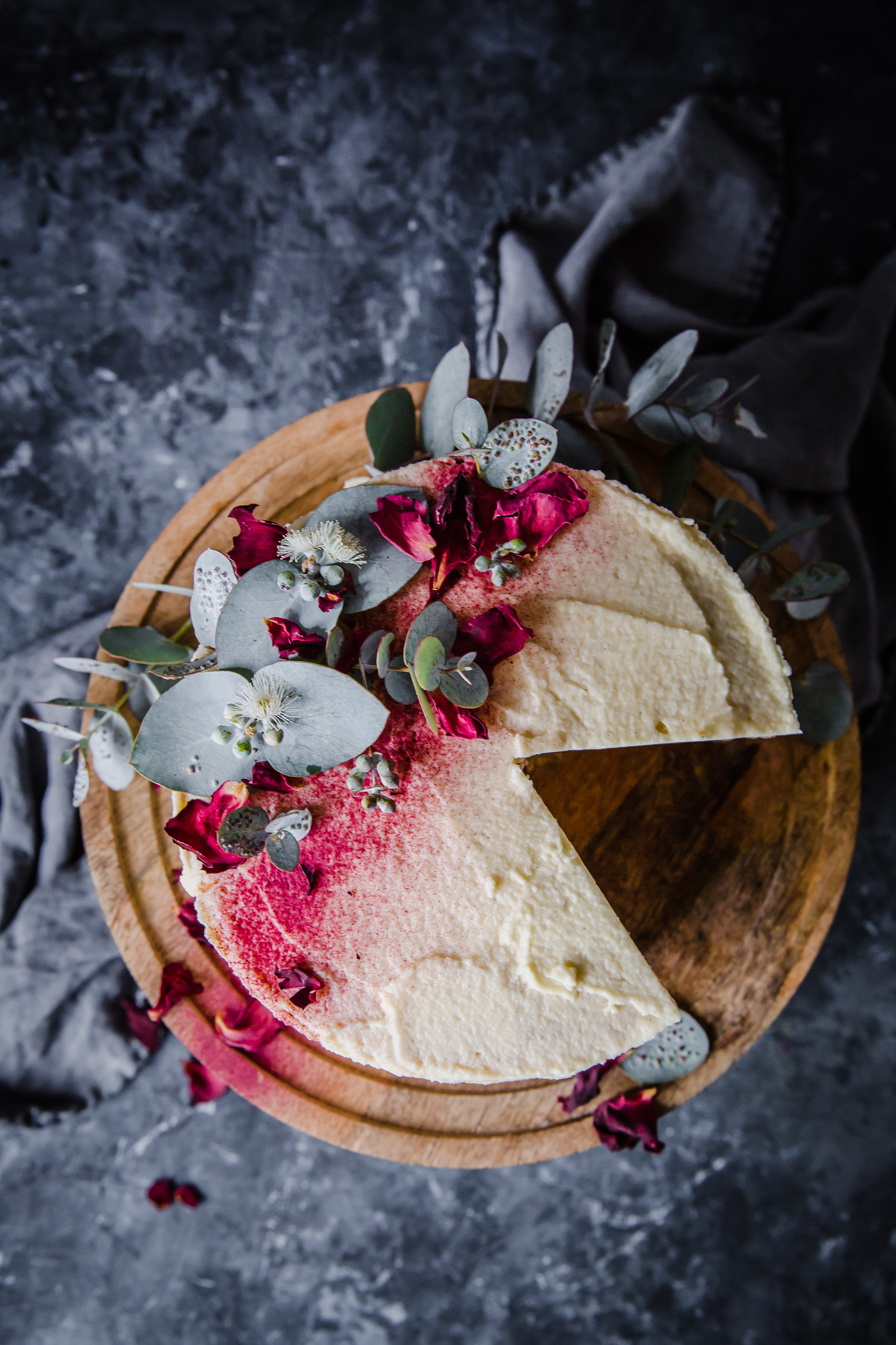 What gear is always in your camera bag? My Canon 5d Mark iii, my 24-70mm lens, my 100mm lens and my 50mm lens. Spare batteries and lens filters. My tripod as well for landscape work.
What's in your prop collection? Lots of vintage utensils and tools, aged trays and waaay too many linen napkins! (Just kidding! I'm always up for buying more!)
Do you have a favourite background for your food photography? I paint my own backgrounds and my current favourite is a lovely mottled grey that has an ombre fade from one corner to the next.
Eating the props - that's got to be the best part of a food shoot? Absolutely, although my waistline would disagree!
Photo caption: "This shot came about completely by accident," Naomi says. "I had this cake left over from a Styling and Photography workshop that I ran, and I also had these beautiful silver gum leaves. The added pink touches just came to me and it's now one of my favourite shots." Photo Credit: Copyright Naomi Sherman. All rights reserved. Published here with permission and thanks.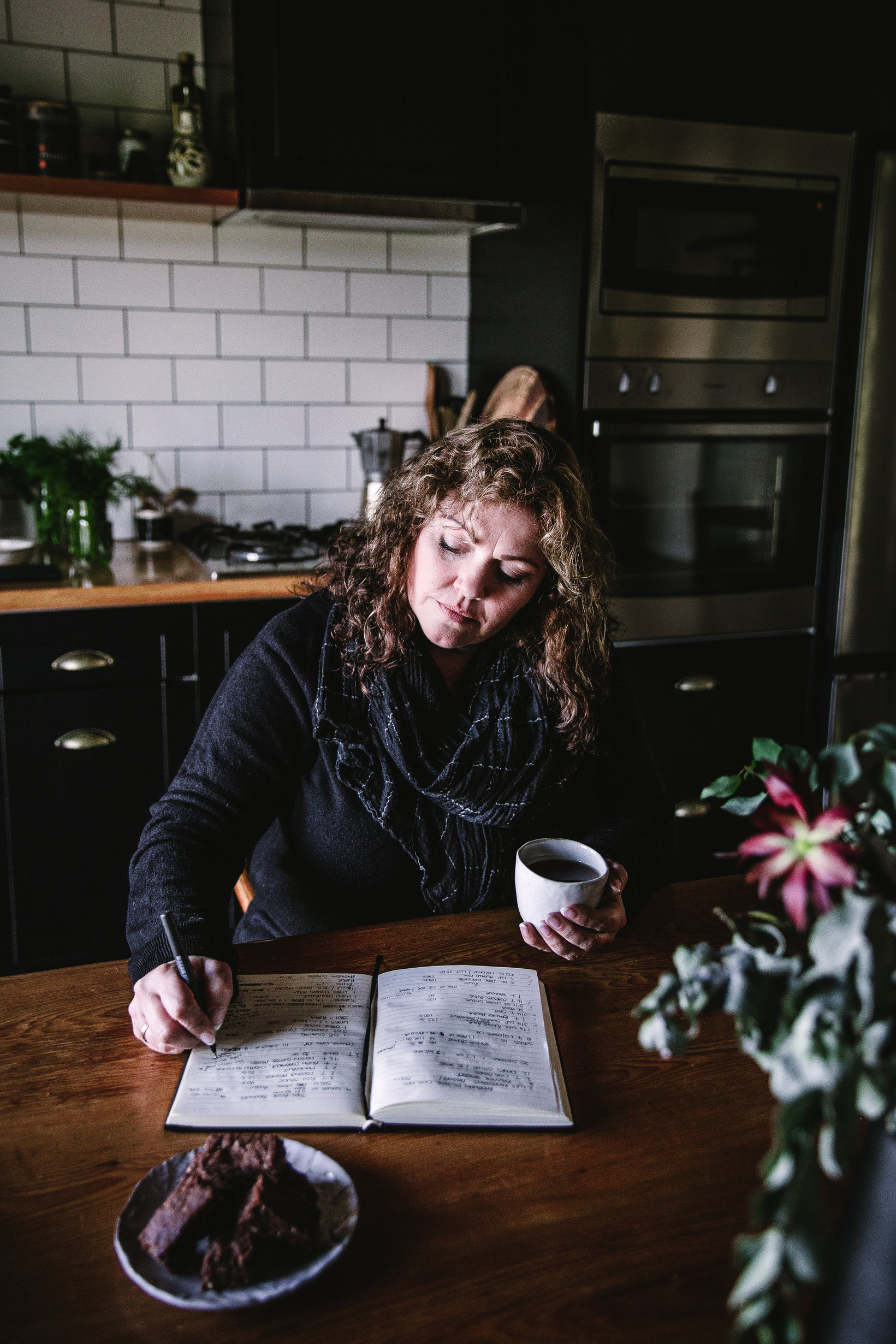 How do you find working from home? "I'm naturally introverted so working on my own is perfect for me. I love to potter away, with my dogs for company and my music playing. It's my happy place. Because I'm introverted, I can quite easily not leave the property for a week at a time. If I find myself hitting hermit mode, I arrange a coffee catch-up with a friend and just get out for a while."
What does a typical day look like? "My husband is a tradie so I'm up and about at 5am every day. I make us a drink to share before he leaves and pack his lunch tin. I then update and check my social media and emails in the quiet of the early morning. I then like to pop my earbuds in and walk with my dogs for an hour on our property- just to get the blood moving! I'll prep, cook and shoot one or two recipes per day, depending on my shot lists and freelance contracts, with a bit of time in the afternoon for editing and bookwork."
Photo caption: "This notebook has all of my recipes from the last year of work written in it," Naomi says. "It will be a treasure to keep." Photo Credit: Dearna Bond from @tohercore (Instagram). Published here with permission and thanks.
Favourite location for food shots? "My studio. The light in there is just perfect and I have an entire room full of props to pick and choose from."
Do you have a favourite spot to shoot your landscape work? "Anywhere that I can photograph sunrise over water. The East Coast of Tasmania is particularly beautiful for this."
Where do you find your inspiration? "Ohhhh, good question! Sometimes I will see colours and tones together and will need to find a way to replicate them. Sometimes I'll see a shot on Instagram or Pinterest, or in a magazine, and it will set a light bulb off in my head."
Anyone in particular who inspires you? "Donna Hay. I feel like she single-handedly changed the way we look at food photography here in Australia. Every single photo on every single page of her books and magazines is a work of art."
Photo caption: Naomi's photo of plump dates with a dollop of peanut butter and finished off with shaved dark chocolate and sprinkle of sea salt has just won a Foodelia International Food Photography Award. "It shows that you don't need fancy food or expensive props to create a stunning image," Naomi says. Photo credit: Copyright Naomi Sherman. All rights reserved. Published here with permission and thanks.
How do you recharge your creative batteries? "I cook, style and photograph food just for me. Not for a client, or to a brief. I find that it frees my creative juices and I come back to my contract work fresher."
Describe your perfect day off. "A sleepy snuggle in bed, followed by a lovely cafe breakfast somewhere. A walk on the beach with my man, and then home to cook something delicious."
What do you never leave home without? "My phone. I'm hopelessly addicted to having it with me at all times, although I'm dreadful at actually answering it. Want to hear from me? Send me a message, lol!"
Recipe development is a big part of what you do, so what ingredients would we always find in your fridge and pantry? "Almond meal, ghee, sweeteners, nut butter and cheese."
Photo caption: "This photo is of my late mother-in-law's cream puffs," Naomi says. "It's one that I shot for my Edible Heirlooms cookbook and holds a special place in my heart." Photo credit: Copyright Naomi Sherman. All rights reserved. Published here with permission and thanks.
And finally, do you have any words of encouragement for anyone else wanting to pursue a career as a food photographer? "Practise. Find your style. Start a Pinterest board of photos that you love. Look over them and ask yourself what appeals to you. Are they bright and colourful? Dark and moody? Taken with bright studio lighting? Using natural light? This is how you come to find your style and the more you practise, the better you'll get. Also, do a photo-a-day challenge if you need to hone your skills. I did this years ago and it made a huge difference to my skill-set because it made me pick up my camera and look at the world creatively at least once a day."
Words to live by? "You can't change the way other people behave, all you can change is how you choose to let it make you feel."
Photo caption: Naomi's Roasted Strawberry Cheesecake shot has just been selected by Canon Australia for a feature on its Instagram page @canonaustralia. Photo Credit: Copyright Naomi Sherman. All rights reserved. Published here with permission and thanks.
I hope you've enjoyed getting to know Naomi! If you'd like to learn more about Naomi's work and creative life you can visit her website at www.naomishermanfoodcreative.com or her Instagram page @naomisherman_foodcreative.
I'll have another feature in the Creative Moments Daily Interview Series ready for you soon! Just follow along on my Instagram page @creativemomentsdaily for all the details. Have a lovely day everyone and thanks for reading!